Review Overview
Summary : LiveJasmin is a fantastic site. It's extremely well done, it has a great reputation and it features amazing models.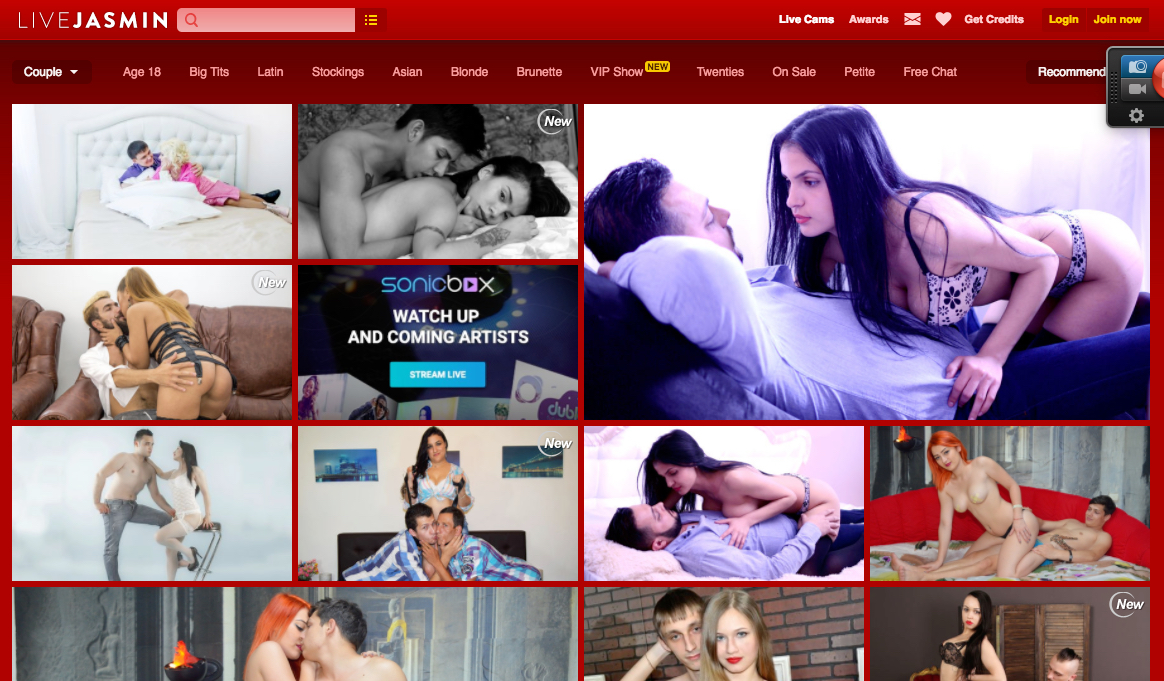 You will find many Sex Cams while browsing the internet but LiveJasmin is definitely the largest of them all. With more than 60,000 registered adult webcam performers and more joining every day, the site looks set to lead the spot of the webcam site podium. This puts it in an even more of a unique position. Despite their size and popularity they have remained true to the principles that got them there: Customer Satisfaction. That's what they care about.
LiveJasmin operates 24 hours a day, 7 days a week and all year around and it is a great sex webcam site that offers users some of the most exciting and impressive collections of live sex cams available anywhere online.
Performers & Navigation:
LiveJasmin features an amazing selection of performers and an incredible variety of chat room categories. Doesn't matter if you visit the site in the morning, in the afternoon or at night, over a thousand performers will always be online. Site's navigation is extremely simple and the live video streaming is great compared to other sites.
The top left tab on your screen will allow you to choose the type of performer you are looking for: Girls, Hot Flirt, Lesbians, Mature Women, Fetish, Couple, Boy For Girl, Gay and Transgender. Each of these categories have plenty of talent available so you will never get bored.
LiveJasmin is offered in 19 different languages, and the models fill in their info in the language of their choice. The languages are: English, Spanish, German, French, Italian, Portuguese, Dutch, Swedish, Norwegian, Danish, Finnish, Japanese, Russian, Magyar, Czech, Slovak, Romanian, Polish and Chinese.
Chat Services Offered:
Free Chat – You basically log in as a guest and enter that chat rooms like any other member. You can chat and interact with the performers.
Member Chat – Creating a membership is free and there is no purchase obligation. As a member, when you chat with the performers you would get more interaction with the webcam models and for sure you will catch their attention, compared to being just a chat guest.
Private Chat – It's just you and the performer, nobody else. Every model has a different rate, but the prices are per minute. This is where the party starts. LiveJasmin girls know how to entertain a man.
Cam-2-Cam Chat – This is part of the Private Chat. You would be able to share your own webcam feed with the model. This gives an added level of intimacy to the entire show. The connection speed, sound and cam quality at Live Jasmine is just amazing and you will almost feel like the model is at your home.
Buying Credits
You can purchase credits with any of these methods:
All the major credit cards (except American Express)
Paypal
Bitcoin/Litecoin
Giftcards (Walmart, Bestbuy, Starbucks and more)
Credits packages can range from $31.99 to $161.99:
$31.99 gives 27.99 credits plus a bonus of 1.99 credits
$71.99 gives 67.99 in show credits plus a bonus of 5.99 credits
$101.99 gives 97.99 in show credits plus of bonus of 7.99 credits
$161.99 gives 157.99 in show credits plus a bonus of 9.99 credits
On average, the cost of a chat ranges from $1.99 – $2.99 a minute which is very reasonable considering that LiveJasmin is a top webcam chat.
A great feature the paying members of LiveJasmin enjoy, is the credit auctions, where the highest bidder can purchase as much as 200 credits for a much lower price. This is an amazing feature that no other adult webcam site implemented, and can give you a really good return for your money, to which the regular existing credit bonuses can't come close.
To take advantage of this you MUST be a paying member. The moment you a paying member, you will have a "credit auction" option on the bottom right of your profile page.
Customer Support & FAQ
Like I mentioned at the beginning of this article, at LiveJasmin, customer satisfaction is the main priority.
You would be able to contact Customer Support in different ways:
Online Assistance through a chat room
A phone number (Non Toll Free)
Email Assistance – Just send them a quick message and they'll get back to you
The FAQ page is extremely detailed and will answer any of your quick questions
Billing Support is also available. 2 numbers are listed in the Support page.
Pros & Cons of LiveJasmin:
Pros
Amazing selection of beautiful models available
HD Web Stream
Unlimited Free Chat
Good Prices
Credit Auctions
Navigation
Multilingual Website
Customer Support
Cons
Some models may charge a lot so just be careful
Conclusion
LiveJasmin is a fantastic site. It's extremely well done, it has a great reputation and it features amazing models. If you are looking for a reliable site then you can't go wrong with LiveJasmin. Satisfaction is guaranteed. The prices are very good as well. So what are you waiting for? Click on the button below and start chatting with these beauties !!
Click on the button below and start checking out these hot women 🙂
Visit LiveJasmin