Review Overview
Summary : Bongacams is definitely a site to check out, especially if you are into hot European beauties.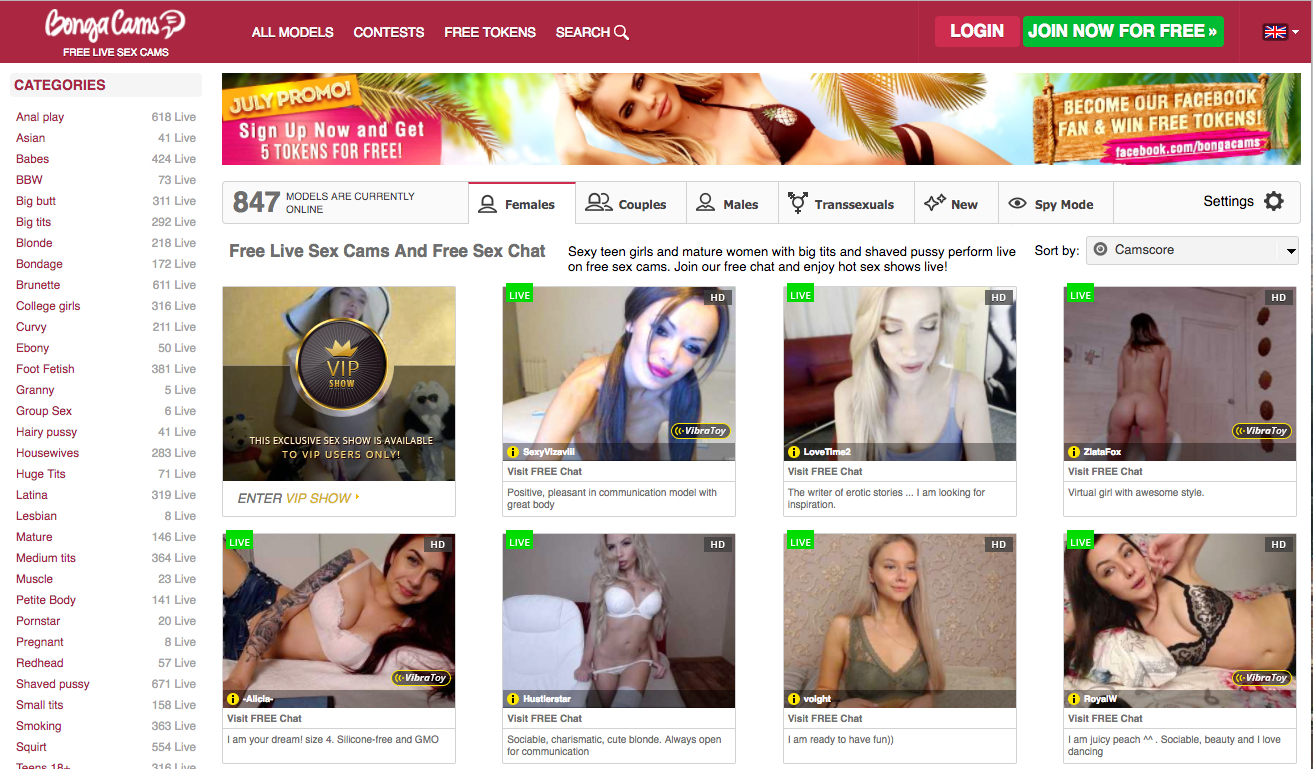 Bongacams is a live cam site that has been around from 2012. The site has an amazing selection of beautiful looking models from Eastern Europe and Russia. The moment you enter the site, you come across a very clean and well done site design with hundreds of female models available.
The site features also a very good amount of male performers, couples and transgenders (around 50 available on average for each of these categories). However, if you are into hot European girls then Bongacams is definitely a site to check out.
Bongacams girls are very pretty and speak good English so communicating will not be a problem. They are not native English speakers, so the conversation might come across some barriers here and there but they will understand you. After all, they know what to do to make a man happy.
The site itself has an incredible variety of languages. At the top right of the homepage, you can set the language of the site (30 languages), giving the audience an opportunity to surf the site in their native language. The languages available are:
English, Russian, Czech, Estonian, Lithuanian, Bulgarian, Latvian, Polish, Croatian, Finnish, Serbian, Slovenian, Danish, Norwegian, Spanish, Swedish, Greek, Macedonian, Slovak, Romanian, Portuguese, Ukrainian, French, Italian, German, Japanese, Dutch, Turkish, Chinese, Korean, Hindi, Arabic, Hebrew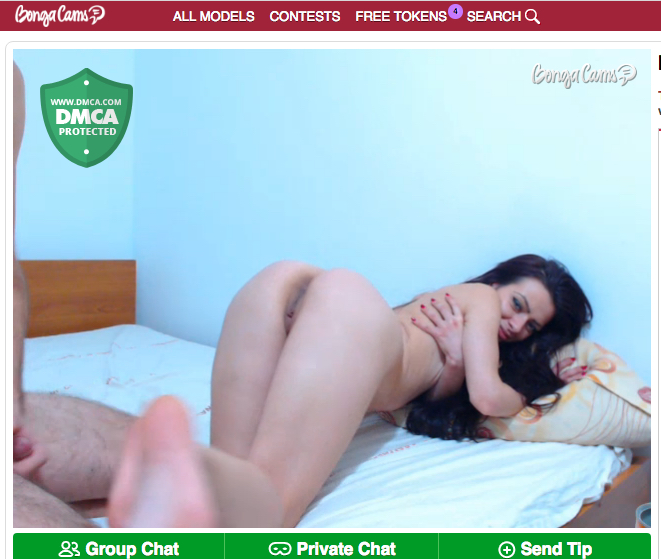 Site Navigation
Navigation is simple and straight to the point. The homepage screen features rows and columns of girls available for live sex chat. The categories are listed along the left side of the screen, so you can quickly make a selection based on your taste, whether that's Big Tits, Big Butt, Latina, Anal Play, Toys and more. The panel along the top also enables you to categorize and choose accordingly.
What does Bongacams has to offer?
You probably asking yourself : "What does Bongacams has to offer me?"
You have plenty of models to choose from. There won't be a situation where there won't be enough models online. Bongacams has approximately 1000 live cams at any time. The free chat might be limited only by the models themselves. They are able to show or not show what they want or feel comfortable with. The goal of the talent is to attract members into paid private shows, so do not expect full on shows for free. After all, they need to make a living as well.
There are 4 types of Shows
Free Chat – We all know what it is
Private Chat – This is simply an exclusive independent chat between you and the model. It's only you and the performer. What happens here is strictly up to the personal liberties of the model. Always click on the "Profile" tab of the model you want to choose to understand what kind of services she provides.
Spy Shows : These are shows that cost much less that a private show, and allows you to watch other members private show with the model. You won't be able to chat, you can only watch as the model performs in front of you.
Group Shows: It's another low cost form of show and it requires three or more members. You will obviously be able to engage in chat with the models and tip them to show them your appreciation. Users can leave at any time, and the show will end once all users have been satisfied and ended their link to the group performance.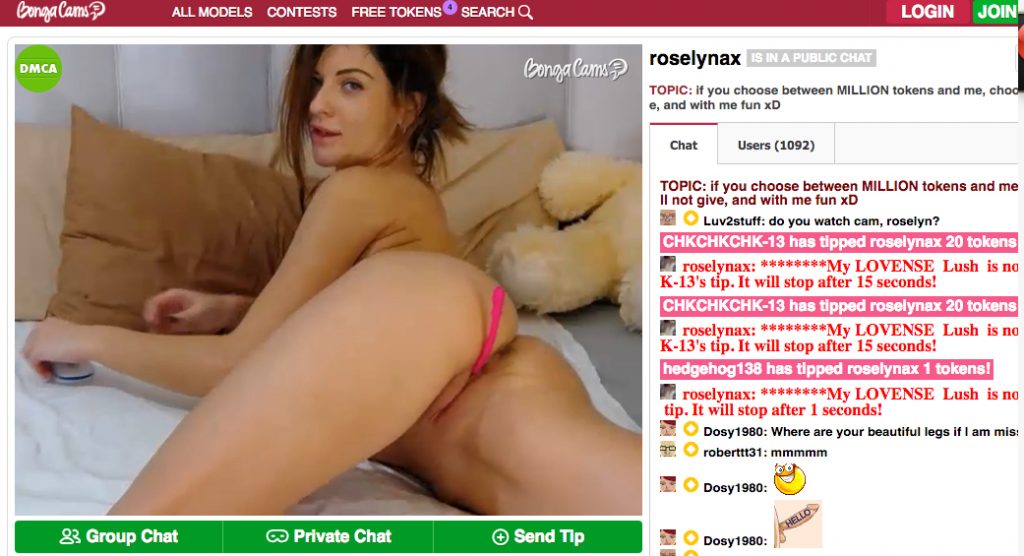 Types Of Memberships and Tokens Prices:
Bongacams offers 2 types of Memberships. FREE and Premium plus a VIP Status
Free membership is absolutely free. All you have to do is select a user name, password and enter your email address. Free members can use the site like most other members, however they will not be able to enjoy all of the benefits of premium users.
Premium users are prominently visible in chats, their nicknames highlighted with different colors. Models know who premium users are and are more likely to pay special attention to members that can tip them or engage in private or group chats. Premium users also enjoy higher quality video, internal messaging system (email), they can be in more multiple chats simultaneously, and they also enjoy many other features.
In order to become a premium member, all you need to do is buy any amount of tokens just ONE time. After that, your membership level will be upgraded to GOLD for LIFE. No catch, no monthly subscription costs or shady hidden fees!
VIP Status:
A VIP member gets access to daily sex shows that only VIP users can view, free access to the content shop, a cool VIP badge in front of your username, access to VIP avatars, VIP support, no ads on website and more reward points then the usual members.
VIP packages are:
3 Month VIP status at $19.98 a month (recurring payment)
1 Month VIP status at $24.95 a month (recurring payment)
1 Month VIP status at $39.95 (one-time payment)
Just like any cam site, to watch private shows, tokens are required. Bongacams offers different packages to choose from. If you choose to buy them with your credit or debit card which is the most used form of payment then your choices are:
53 Tokens for $7.99
137 Tokens for $19.99
431 Tokens for $49.99
648 tokens for $74.99
You also have the option of buying tokens with Paypal, Bank Transfer and Bitcoin. Credit card is the payment method that offers the largest number of token packages.
All in all, the prices are reasonable and the shows that the models provide are second to none:
Private Chat costs 30 tokens/minute
Group Chat costs 15 tokens / minute
Voyeur/Spy Chat costs 7 tokens / minute
Customer Support & FAQ
For any questions related to customer support, you have the option of scrolling down the homepage and select "FAQ" or "Contact Support". FAQ will pretty much answer all of your quick questions. In the Support page, you would be able to engage in a quick chat with their Online Support or even email them. Also included are 2 direct links to their main billers Epoch and Segpay as well as their phone numbers.
Pros & Cons of Bongacams
PROS
Amazing selection of beautiful European models.
Very good amount of Languages
HD Webcam Streaming
Hardcore Couples' Shows
Reasonable prices
Tipping Options
Plenty of payment options and packages to choose from
CONS
Annoying Membership Popups
Less-English fluent models
Conclusion
Bongacams is definitely a site to check out, especially if you are into hot European beauties. The prices are reasonable so for a small investment you can have a good time with these European hotties. The site competes well in the market and it has a very good reputation among sex cam users.
Click on the button below and start checking out these hot women 🙂
Visit BongaCams